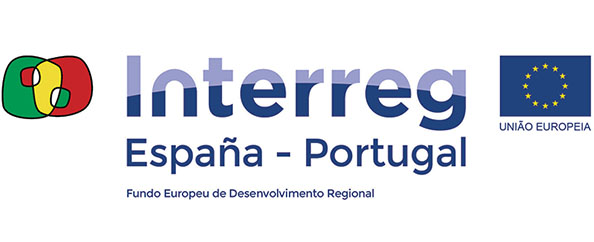 The cooperation programme Interreg V-A Spain-Portugal (POCTEP) addresses the most important cross-border challenges linked to the implementation of the Europe 2020 strategy in the Spanish – Portuguese border region. The planned investment for this program is around EUR 484 millions of which EUR 365 millions will be financed by the European Regional Development Fund (ERDF).
Under the heading of "smart growth", the programme aims to strengthen cross-border regional innovation capacity, and to increase cooperation between small and medium-sized enterprises and the research and development sector across borders. With regard to "sustainable growth", the programme aims to promote adaptation to climate change, prevention and management of risks, reduction of the environmental impact of economic development and promotion of resource efficiency. Finally, with regard to "territorial cohesion" the programme targets the development and improvement of cross border public services and the enhancement of the identification of citizens with the Spanish – Portuguese border region.
The Transboundary Space of Spain and Portugal is composed of 37 NUT III belonging to the two countries:
Spain: Ourense, Pontevedra, Zamora, Salamanca, Cáceres, Badajoz, Huelva, A Coruña, Lugo, Avila, Leon, Valladolid, Cadiz, Cordoba and Seville.
Portugal: Alto Minho, Cávado, Terras Trás-os-Montes, Douro, Beiras and Serra de Estela, Beira Baixa, Alto Alentejo, Alentejo Central, Baixo Alentejo, Algarve, Ave, Alto Tâmega, Tâmega and Sousa, Viseu Dão-Lafões, Region of Coimbra, Middle Tejo, Region of Aveiro, Region of Leiria, West and Alentejo Litoral.
The POCTEP 2014-2020 works on five major thematic objectives:
Promote research, technological development and innovation
Improve the scientific excellence of the Cross-Border Cooperation Space and the lines of research with the potential to be internationally competitive.
Improve the participation of the business community in innovation processes and R & D & I activities closer to the market (technological development, testing, innovation) that can be commercially exploited.
Improving the competitiveness of small and medium-sized enterprises
Improve the conditions necessary and conducive to the emergence of new business initiatives guaranteeing their sustainability and boosting their growth.
Promote competitiveness in those sectors that have the most competitive advantages in the Cooperation Area.
Promote adaption to climate change in all sectors
Promote the enhancement of territorial resilience to natural cross-border risks.
Protect the environment and promote resource efficiency
Protect and enhance the cultural and natural heritage, as an economic base of the cross-border region.
Improve the protection and sustainable management of natural spaces.
Strengthen local sustainable development along the entire border line between Spain and Portugal.
Increase levels of efficiency in the use of natural resources to contribute to the development of the green economy in the area of ​​cooperation.
Improve the institutional capacity and efficiency of the public administration
Consolidate new strategies of dialogue and interrelationship, that allow to advance with new initiatives between the several actors that operate in the border.
POCTEP contemplates actions in favor of research, development and innovation, such as:
Research and innovation activities, including networking.
Transfer of technology and university-business cooperation, especially for the benefit of SMEs.
Research and innovation processes in SMEs.
It also includes actions related to business development and the promotion of quality employment:
Promotion of entrepreneurship and entrepreneurship in SMEs.
Business development of SMEs, support to networks of mentors and support to entrepreneurship and incubation.
Self-employment, entrepreneurship and start-ups, including microenterprises and entrepreneurial SMEs.
Promotion of internationalization.
Mobility of workers, companies and entrepreneurs.
Likewise, in terms of the environment and energy and ecological infrastructures, POCTEP provides measures to:
Adapting to climate change and risk prevention and management.
Development and promotion of the tourism potential of natural spaces.
Protection and promotion of cultural assets and natural heritage.
Treatment of household waste.
Management and conservation of drinking water.
Integrated pollution prevention and control.
Finally, the Program envisages other types of actions related to improving the institutional capacity of administrations and public services through cross-border cooperation.
Can benefit from this program: Universities, higher education institutions, Technological Centers, Research Institutes, Science and Technology Parks, Public Administrations, companies, Regional Development Agencies, Development and Economic Development Foundations, Chambers of Commerce, Business Associations, Civil Protection Services, Hydrographic Regions, Natural Parks and Associations of Defense and Natural Heritage Management, Civil Society Associations and Organizations.
More info: