Interreg Europe helps regional and local governments across Europe to develop and deliver better policy. By creating an environment and opportunities for sharing solutions, we aim to ensure that government investment, innovation and implementation efforts all lead to integrated and sustainable impact for people and place.
A better performance leads to better results. By building on its forerunner, INTERREG IVC (2007-2013), Interreg Europe aims to get maximum return from the finance by the European Regional Development Fund (ERDF) for 2014-2020.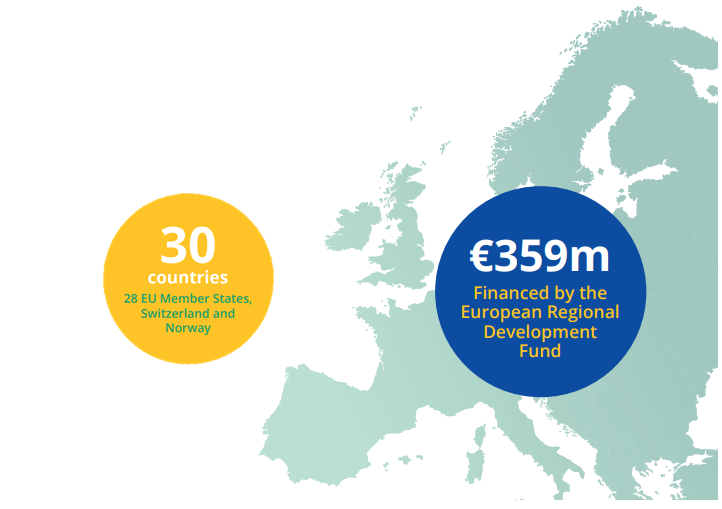 To achieve this goal, Interreg Europe offers opportunities for regional and local public authorities across Europe to share ideas and experience on public policy in practice, therefore improving strategies for their citizens and communities.
Interreg Europe exists to assist three types of beneficiaries:
Public authorities – local, regional and national
Managing authorities/intermediate bodies – in charge of the Investment for Growth and Jobs programmes or European Territorial Cooperation
Agencies, research institutes, thematic and non-profit organisations – although not our main target group, these types of organisations can also work with Interreg Europe by first engaging with their local policymakers in order to identify options for collaboration with Interreg Europe
Organisations that work with Interreg Europe must also be based in one the 28 EU Member States, Switzerland or Norway.
Any actions developed with financial support from Interreg Europe must fall into one of the following four categories:
Interregional Cooperation Projects
Interreg Europe will co-finance up to 85% of project activities carried out in partnership with other policy organisations based in different countries in Europe.
Through interregional cooperation projects, partners must identify a common interest and then work together for 3-5 years.
Initially, partners will share experience, ideas and know-how about how best to deal with the issue at hand. Each partner region must:
Produce an action plan
Set up a stakeholder group
Participate in the Interreg Europe Policy Learning Platforms
After this stage, each partner must monitor progress of the implementation of their action plan and report to the lead partner. Pilot actions may be supported during this period.
More info: